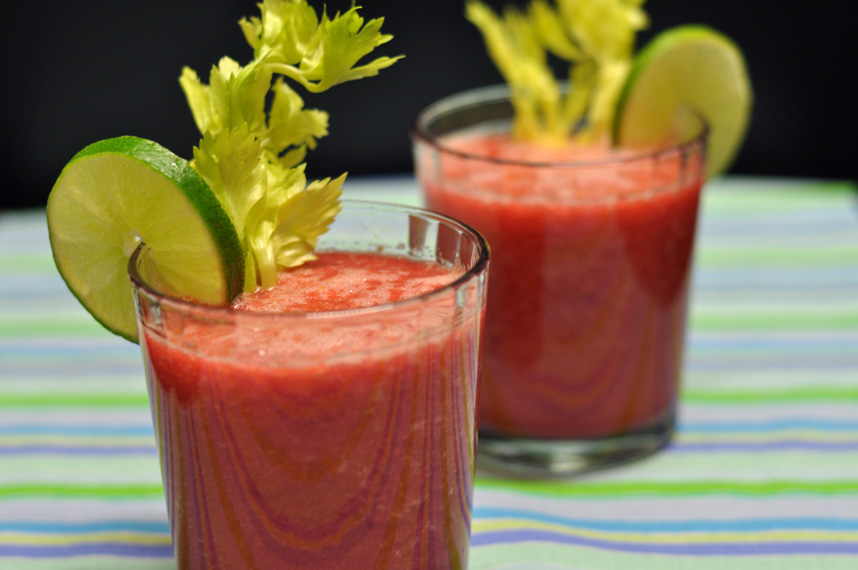 Summer is a time for backyard B-B-Q's, eating at sidewalk Cafés and Picnics where we always see a lot of cool alcoholic drinks such as the Bloody Mary, the Pina Colada, and the many other drinks they offer. So I thought I would make some non-alcoholic versions of these for you. You need some vine ripe tomatoes that are nice and juicy! Here's a hint on how to get them nice and ripe – put them on your window ledge when you bring them home and the sun will help ripen them!
Put the following in your blender and blend until liquid: makes 4 cups
4 tomatoes (quartered)
⅛ cup of each: chopped celery & white onion
1-2 lemons or limes juiced
1 clove garlic (make it 2 if you love garlic like I do)
1 tsp BeetMax powder
1 tsp sea salt (if you like it spicy add a pinch of cayenne)
½ cup water
Strain the liquid if you want (we just blended until smooth) into another jug and put in the fridge until nice and cold.
To serve: pour the cold tomato juice mixture into a tall glass with the following:
2 ice-cubes
1 stalk of celery that has the leafs
Garnish with a slice of zucchini or lime as we did in the picture then sit back and enjoy!