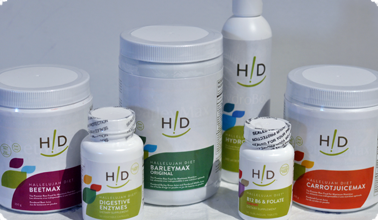 The Hallelujah Diet has spent years of intense research and development to ensure that we offer only those products with best quality, consistency, and nutrient value on the market, from our proprietary line of raw, whole food supplements to the world's best healthy kitchen equipment, and informative books and DVDs. We offer these products as our ongoing commitment to provide you with everything you need to empower your self-healing body!
For a complete list of all the products offered at Hallelujah Acres Canada and their prices, view our  Printable Canadian Price List. 2017 FALL Price List
 To Order Product contact us in any of the following ways:
Call our toll-free number 1-866-478-2224 Mon/Wed/Fri 9am – 6pm and Tues/Thurs 9am – 8pm
Come to the Waterloo office (please call before you come)
Email gethealthy@hacres.ca
Fax 519-885-2051
AUTOSHIP – every month or every second month where you can

SAVE 5-10% and get FREE shipping

. Call the toll free # 1-866-478-2224 to get these savings.
DISEASE KITS: get a 20% discount – call our toll free number 1-866-478-2224 for details. You can

click here

to see the list of what each kit consist of.
RETURN POLICY: 30 DAY SATISFACTION GUARANTEED you may return supplements (unopened) and appliance (in new condition in their original box) within 30 days BUT you must call (1-866-478-2224) first to get a Return #. It is your responsibility to mail it back to us and a credit will be issued upon receipt.
BOOK CATALOG
One of the hardest things about eating healthy is having an assortment of easy and healthy recipes – to help you we now have 18 wonderful recipes books with over a 1200 tantalizing recipes that will help you make awesome meals! Click here to see our 5 page book catalog .
 

H!Diet JuiceMax & Supplement Catalog
To see our JuiceMax & Supplements listed in our catalog with a description of each click on the link. 
Click HERE to see our  H!Diet Product Catalog

.
NEW Appliance & Equipment Catalog 
We have an assortment of appliances and exercise equipment to help you prepare healthy food and keep in shape. Click here to see the A&E catalog
JuiceMax Products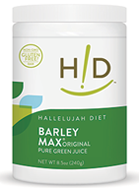 BarleyMax is a 100% organic and filler-free juice powder with one of the widest spectrums of naturally occurring nutrients in a single source. BarleyMax supplies nutrients, live enzymes and trace elements, which help to build and maintain your immune system. We suggest you take this product 2 to 3 times a day. If recovering from a serious disease take 5 to 8 times a day.
BarleyMax is available in Original, Berry, Mint, Alfalfa Free & Capsule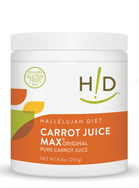 CarrotJuiceMax is dehydrated, carrot juice loaded with nutrition from more than 10 pounds of sweet, young carrots and bursting with protective beta-carotene to empower your immune system. Because almost all fiber is removed, the living nutrients in the juice reach the bloodstream and the cellular level in minutes.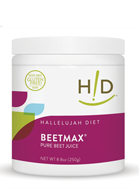 BeetMax brings your body unbeatable protection from free radical damage. Traditionally, beets have been used to help normalize the pH balance of the body, contribute to the well-being of the liver and gall bladder, stimulate lymph gland activity, flush the kidneys and bladder, and contribute to normal brain functions, reproductive functions, bone structure, and glucose metabolism.
Supplements
[/wptab]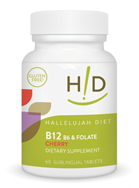 Bioactive B12 boasts superior nerve health support compared to non-bioactive cyanocobalamin. Bioactive B6 prevents lipid oxidation and the formation of advanced glycation end products. And folate, supplied as Quatrefolic®, can be used instantly in the body without the enzymatic transformations required to convert folic acid, a problem for some people. Numerous studies suggest that, together, these three vitamins may help to optimize homocysteine levels, which may support cardiovascular health.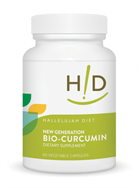 Bio-Curcumin is a combination of curcumin and essential oils, both extracted from Turmeric Rhizome, which increases the absorption of curcumin 5-7 times as much as a typical 95% curcumin formula. This now comes in regular strength of 400 mg and Extra strength of 600 mg.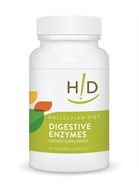 Every single function of the human body requires enzymes, and they all suffer if you don't get enough – which means your well-being suffers too! The abundant live enzymes in Hallelujah Acres' Digestive Enzyme supplement help improve poor digestion and absorption of critical nutrients, which is especially important when eating cooked or processed food.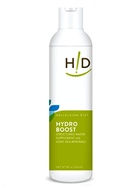 HydroBoost KIT will "boosts" distilled and reverse osmosis water raise the pH to an alkaline level of 8.0 or higher, boosts protection against free radicals, boosts hydration to your cells, and boost nutrition with more than 70 ionic minerals and trace elements! Watch for our new and improved Hydroboost Kit made up of our H!Diet Willards Water and Trace Minerals!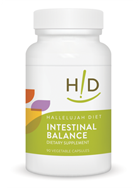 Intestinal Balance helps your body seek and destroy candida-causing bacteria! Candida is caused by an imbalance in gut bacteria, but Intestinal Balance's special enzyme blend supports the body's efforts to re-establish proper bacteria balance, which promotes good health.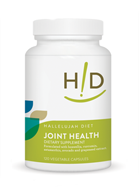 Be nice to your knees and any other achy joints! Hallelujah Acres Joint Health, made with superior BCM-95 Curcumin and boswellia extracts, helps rebuild cartilage as it suppresses joint inflammation and joint damage from free radicals.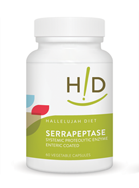 Serrapeptase, or serratia peptidase, is a proteolytic enzyme originally isolated from a microorganism in the intestine of a silkworm. Serrapeptase digests non-living tissue without affecting healthy tissue. It helps to reduce symptoms such as pain, quantity of secretion, inability to perceive smell and stuffy nose from ear, nose and throat infections. It is specifically formulated for maximum absorption.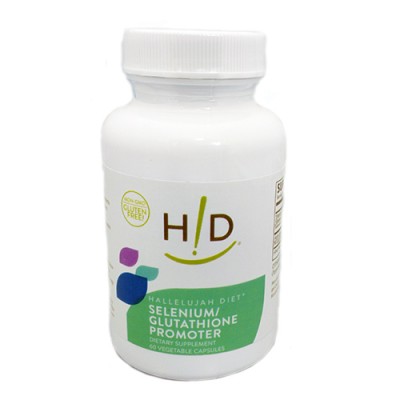 Selenium/Glutathione Promoter was thoughtfully formulated to not only help you maintain healthy levels of the essential mineral, but also to boost your immune system defenses. We achieved this by uniting selenium and powerful antioxidants that work harmoniously with one another in order to stimulate the increased production of the "master antioxidant" glutathione.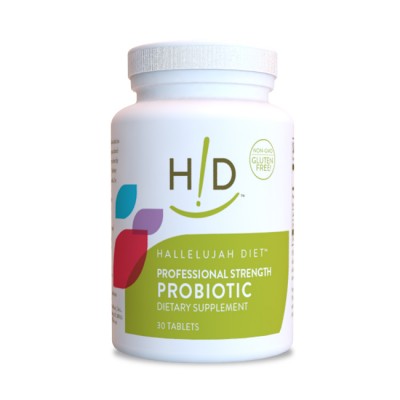 Hallelujah Diet "power-packed formula" Professional Strength Probiotic is supported by a Patent Delivery System that delivers up to 60% of its bacteria all the way to your colon –giving you far more effective results and helps you to maintain a healthy lifestyle! *Most probiotic brands boast a high amount of bacteria (CFU), but very few make it past your stomach acids to your colon, where probiotics are needed most. Just one Hallelujah Diet probiotic caplet a day will help support your entire gastro-intestinal tract with beneficial bacteria.
Whole Foods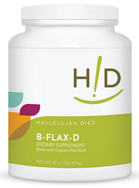 B-Flax-D offers vital nutrition in a fantastic fiber source. Formulated specifically for long-term use, providing an easy transition for those who have been using HD Fiber Cleanse. Recommended use or purpose: Source of essential fatty acids, helps in the development and the maintenance of bones and teeth, helps in the absorption and use of calcium and phosphorus, helps to form red blood cells, acts as antioxidant for the maintenance of good health, helps in tissue formation, helps the body metabolize fats, proteins, and carbohydrates, source of omega 3 fatty acids, used in Herbal Medicine as a bulk forming laxative, helps to maintain immune function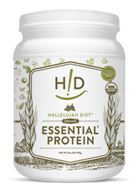 Organic Essential Protein is an unsweetened blend of organic protein powders from dry peas and rice along with organic raw seeds that are high in protein and minerals. The amino acid profile is balanced so that all of the amino acids can be utilized for building the structure and tissues of the body. This now comes in PURE the original and these 3 flavours: Almost Chocolate / Tropical / Sweet Vanilla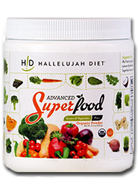 The Organic Superfood Greens and Vegetables Berry Flavored blend combines potent cereal grass juice powders, nutrient superdense micro-algae, mineral-rich sea vegetables, prebiotic oligosaccharide gums and fibers, and a wide variety of organic vegetables. Included is a delivery system not only to make the mix taste smooth, but also to improve the absorption of nutrients, so that you get the most from this food. We've added in berry flavour with just the right amount of stevia goodness to make this one of the most pleasant ways to get your vegetables.
[/item][/accordion]

Kitchen Appliances
Blenders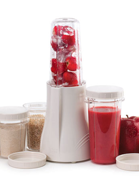 Tribest Personal Blender
This tough little dynamo steps up wherever you plug it in, delivering powerful, portable, ice-crushing, smoothie-making, seed-grinding and sauce blending capabilities on demand. Includes 4 BPA-free blend and serve cups.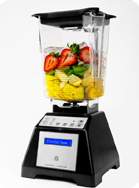 Blendtec
An all-in-one appliance that makes smoothies, shakes, soups, sauces, bread dough, dressings, salsas, and more. Features a 1500-watt, heavy duty motor and dozens of electronic pre-sets that automatically vary motor speed so you don't have to babysit the blender.
Food Processor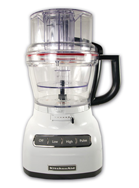 Kitchenaid Food Processor
Stylish, powerful, versatile, and convenient! Features 700 watts of power and 12-cup capacity for the biggest, most demanding jobs. Includes bowls, blades and discs. All dishwasher-safe.
Dehydrator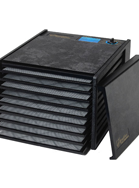 Excalibur Dehydrator
Preserve your raw food the natural way, with all its enzymes intact. Make dried fruit, raw gourmet meals, and hundreds of other recipes! Includes 9 removable trays for 15 total square feet of drying area, variable temperature dial, and easy set up, operation, and cleaning.
Juicers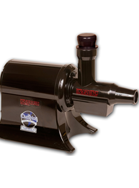 Champion Juicer
A real workhouse juicer: durable, dependable and very simple to use. For decades, countless people have counted on the classic Champion juicer. This versatile appliance makes fresh juices, fruit sauces, baby foods, nut butters, ice cream, sherbets, and even fruit smoothies.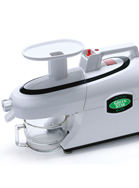 Green Star Elite Juicer
All the features and versatility of the world-famous Green Star juicer, plus a sleek new design with a new locking mechanism, exclusive new safety features, fewer parts for easier clean-up, easy-grip adjusting knob, advanced gears, and a new juicing process for better yield.
Nutmilk Maker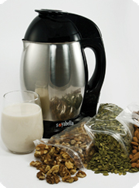 Soyabella Nutmilk Maker
Takes the hassle out of making your own raw almond milk, cashew milk, and other nut milks! Just put the nuts and water in and press go! Also makes porridge, rice milk, rice paste, hot soups, and more in just 15 minutes. You can even use it to grind seeds and mill grain.
Spiral Slicer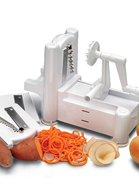 Vegetable Spiral Slicer
Now it's a snap to make your own veggie noodles and snazzy-looking salads. Change the blade and you can make curly cuts too!
Water Distillers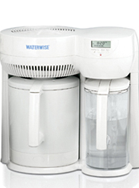 WW8800
Removes dangerous chemicals and pollutants from your drinking and cooking water. Combines steam distillation and carbon filtration for ultimate purity.
Exercise Equipment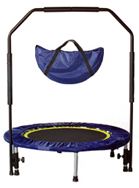 Urban Rebounding System
Melt pounds away in just 15 minutes a day! The Urban Rebounder Low Impact Workout burns fat fast without any pain or joint stress. So much fun, it could be the first exercise you actually look forward to!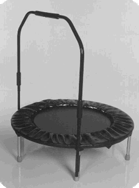 Needak Rebounding System
Used daily by Rev. George and Rhonda Malkmus, this is the finest rebounder on the market. The Needak Rebounder includes a 40-inch diameter heavy-duty metal frame and six removable, spring-loaded legs. It folds in half to fit into its own carrying bag.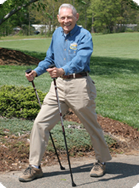 Exerstrider Walking Sticks
Increase your fitness level faster by simultaneously exercising all of your body's major muscle groups as you walk. Exerstrider poles make walking a highly effective total-body exercise.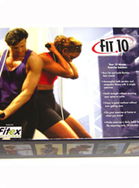 The patented Fit10 Quick Strength Trainer helps you build muscle, reduce body fat, strengthen your heart and increase flexibility, all in just 10 minutes a day! Gentle on your back and joints, it's easy to use, fits in a small bag and goes anywhere.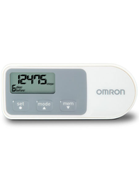 Omron
Increasing your activity level is a great way to improve your health and reduce stress, and every step counts. The Omron HJ-320 is an accurate, simple and easy-to-use motivational tool.
All prices are shown in Canadian dollars. Prices are subject to change without notice.