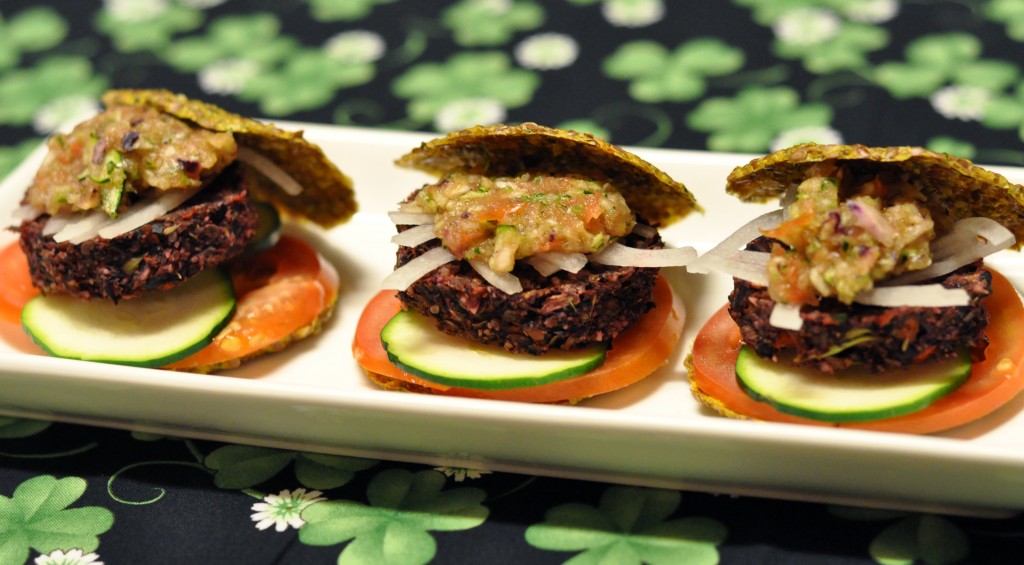 The Slider
makes 12 (these can be stored in the freezer for up to a month)
Put the following in a large bowl and let sit while you get everything else ready:
1 cup slightly ground flax seed
½ cup pumpkin seeds
1 ½ cups water
Process the following ingredients in your food processor until chunky only:
1 tomato (quartered)
½ cup of each diced: celery, zucchini, red cabbage
1 beet (quartered)
¼ cup onion (diced)
1 tsp of each: chili powder, curry, paprika, sea salt
1 large clove garlic
Add this veggie mixture to your large bowl of flax seed and stir well.
This mixture should be about the same consistency of ground hamburger.
Take a small scoop and shape into a small round about 3 cm thick and place on your Paraflex sheet for your dehydrator.
Dehydrate at 105F for about 3 hours then flip onto just the fine mesh screen and dehydrate again for 1-2 hours (they should still be soft inside).
Serve on thin flax cracker thins or multi grain buns with an assortment of toppings such as tomato, onion, mustard, relish, cucumber or zucchini slices, lettuce ….
The Relish
makes 1 cup (5 days in fridge)
In a mini blender process until a relish like consistency:
¼ cup of each chopped zucchini or cucumber and onion
½ lime juiced
1 clove garlic
1 handful cilantro