Yesterday we had a Pumpkin themed class here at our Toronto location. All of the recipes prepared featured the pie pumpkin – a pumpkin grown for eating rather than decorating. Pumpkins are very versatile in their uses for cooking. Most parts of the pumpkin are edible, including the fleshy shell, the seeds, the leaves and even the flowers. We added pumpkin to a number of recipes with spices such as nutmeg, cinnamon, cloves and ginger. Here is a recipe for a pumpkin parfait dessert.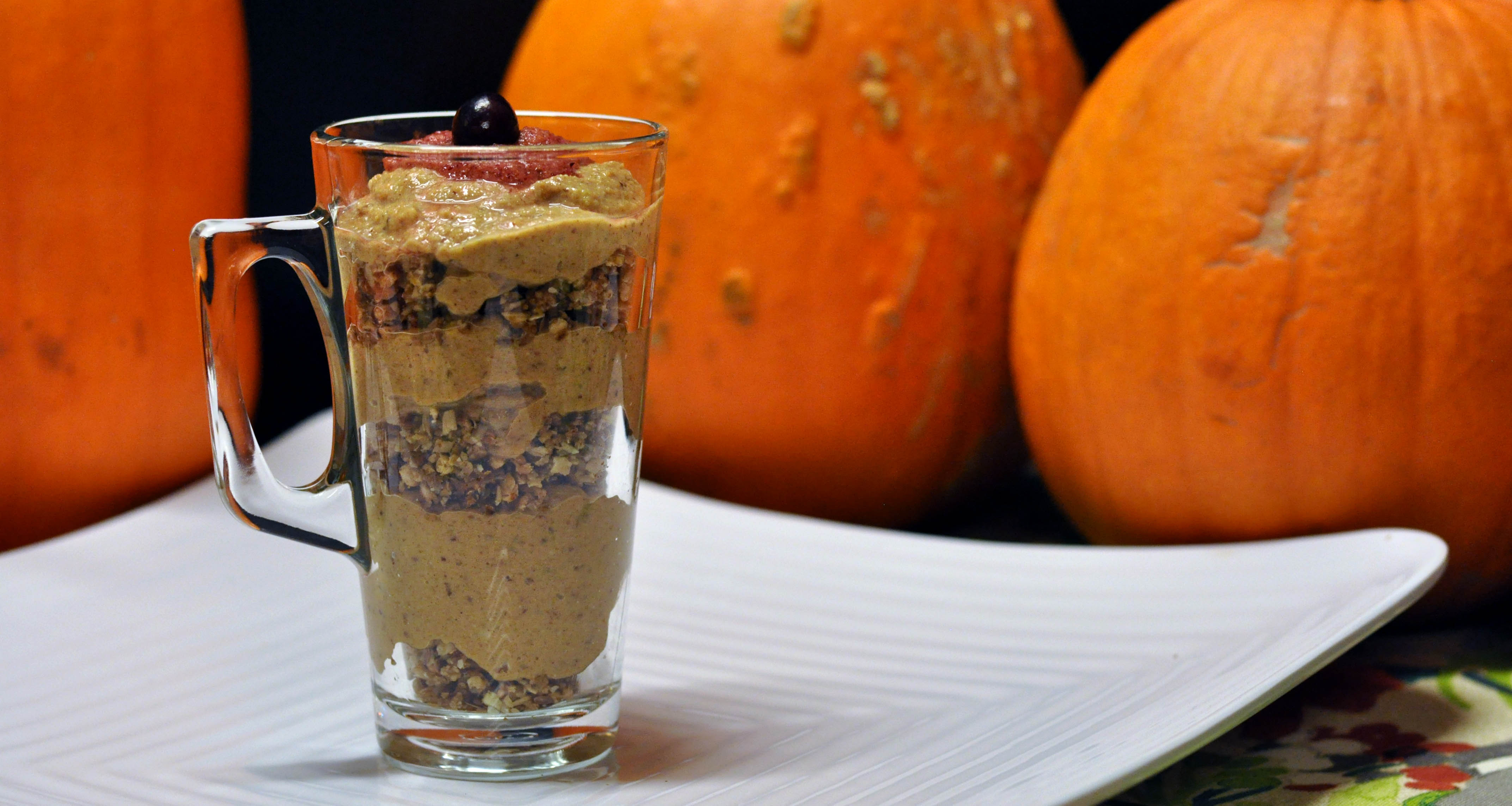 Pumpkin Parfait
Nut/Seed Crumble:
Prepare crust before and keep in the fridge or freezer.
Soak nuts overnight then drain before grinding.
In food processor grind:
1 cup of each: pumpkin & pecans
2 tbsp. coconut oil
½ cup dates
Process until mixed like a crumble
Pumpkin Filling:

This is best done in a Champion or Green Star Juicer using the blank screen.
Soak the following for 30 minutes
¾ cup organic dates
½ cup organic raisins
¼ cup pumpkin seeds
Peel and cut pumpkin and yams.
Drain dates, raisins and seeds reserving the water.
Put the pieces of yams and dates, raisins and seeds alternately through the juicer. You will need a large bowl to catch them (this will give you 3-4 cups).
1-2 pie pumpkins (or sweet potatoes or yams) peeled then cut into chunks
Transfer this pulp mixture to the food processor and add the following spices:
½ tsp. of each: nutmeg, cloves, allspice
3-4 slices of fresh ginger root
1 tsp. cinnamon
¼ cup maple syrup
1 small package organic firm tofu
Process well. It will take a few minutes and you might need to add some of the water from the soaked dates/raisins. Continue blending until smooth and creamy.
Cranberry Pomegranate Purée:
Using a mini blender process the following until it is a creamy liquid:
½ cup cranberries
1 tbsp. maple syrup
¼ cup pomegranate juice (Hint: it is easy to get the juice by using a citrus juicer)
Parfait Assembly:
use a fancy parfait glass or wine glass – alternate the pumpkin filling with the crumble then the cranberry purée & sprinkle pomegranates on top – refrigerate for at least 1 hour.