Let us help you with your Christmas shopping! Spend over the following amounts to receive gifts from us. For each level you reach you will receive all of the gifts from the preceding levels. So, the more you spend the more you will receive!

Spend the following amounts and receive the following gifts:
$75 Diet for a New America Book or DVD
$100 + Free Shipping
$150 + 4 Survival Bars
$200 + 8 more Survival Bars
$250 + Hallelujah Acres Fleece Blanket
$300 + Box of 12 Survival Bars
A maximum of THREE of any one product can be purchased in one order during this special. The Hallelujah Diet to the Max can still be used in conjunction with this Peace, Love & Giving Special. This offer is for Retail & Phone Order customers only, and is not valid with Health Minister or Wholesale discounts. Gifts may be substituted at any time if items become out of stock. Offer only valid for one order between November 28th – December 19th 2014. Free shipping is not valid on Appliances or Cases of Survival Bars (4 or more boxes).
Holiday Hours
December 24th: Phones will be open 9am-2pm, Toronto store will be open 12noon-2pm
December 25th & 26th CLOSED
December 31st: Phones will be open 9am-2pm, Toronto store will be open 12noon-2pm
January 1st CLOSED
Sweet Pepper & Bok Choy Layered Salad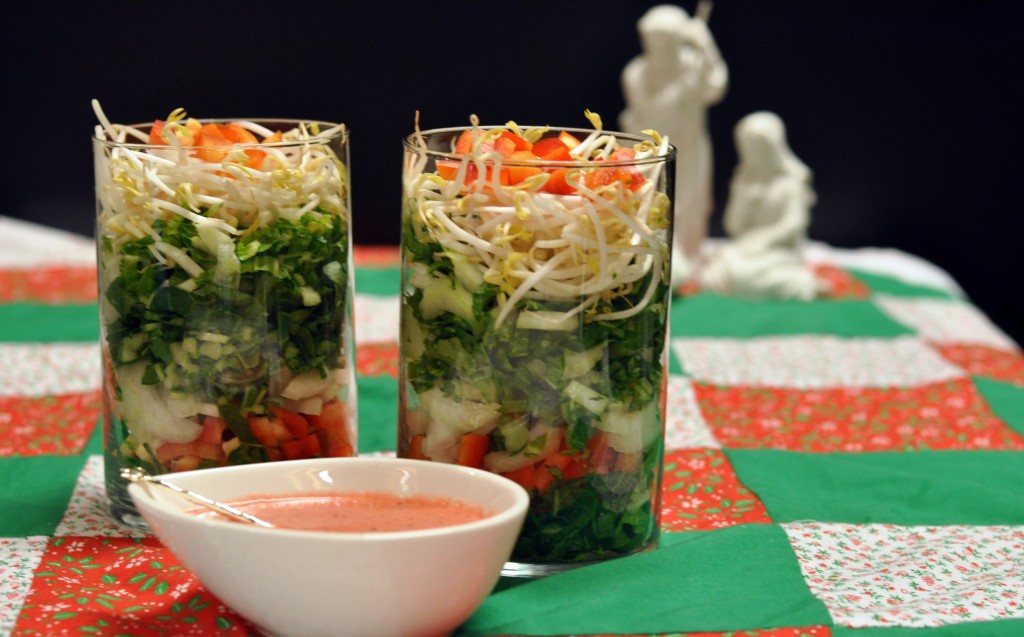 makes a large salad for 6-8 people
This is a beautiful salad to make anytime but it is especially nice as a Christmas recipe because of the bright red, white and green colours.
You will need the following ingredients:
1 large bunch Bok Choy (thinly chopped)
3 red pepper (thinly sliced)
2 cups mung bean sprouts
1/4 cup thinly sliced sweet white onion
Using 1/2 of each of the above ingredients start with a layer of the greens in a large glass bowl, then add the red peppers, then the mung beans and onion – repeat the same and cover with plastic wrap until ready to serve.
Just before serving pour the dressing over – it will blend as you serve.
Cranberry Dressing
Put the following ingredients into you blender and blend on high until creamy:
3 tbsp olive oil
juice from 1 lime
1 clove garlic peeled
1/4 cup cranberries
Toss with the salad as you are serving it so the dressing mixes.
New Year Interactive Email
Start the year off on the right track with our interactive email guide that will help you with new Healthy ideas going into 2015. Stay on pace with our New Year program to help stay focused with your healthy lifestyle. More information to come! Looking to get started with your New Year Program early? The 2015 Journal is now available for purchase to help you plan your year. Call before December 1st and get it at the introduction price of $24.95!