Happy New Year from the Staff of Hallelujah Diet Canada!
Let's plan to have the Healthiest year yet! In order to do this we have planned a month full of tips and recipes for you to start your year off in good health, and to continue with healthy living throughout 2015. Each week we will be asking you to share your answers to our weekly questions about staying healthy in 2015.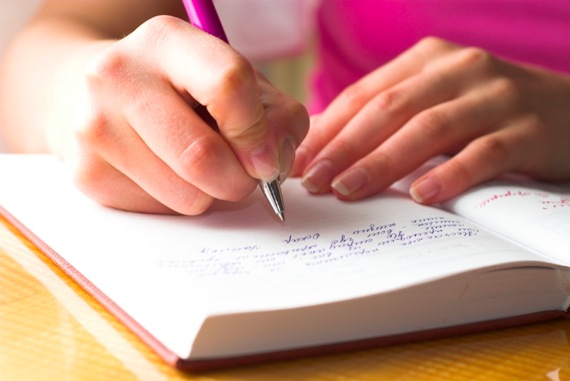 We have talked about our physical wellbeing and how what we eat and don't eat will have enormous effects on our physical health. Today I would like to take some time talking about caring for our mental wellbeing. Just like the body our mental health depends on what we feed our minds each day. Are you giving your mind good positive thoughts? Maintaining your mental health is a lot like staying physically fit: it requires a little personal effort every day. But the rewards are great! Devoting a quiet time to planning each day is a habit worth developing.
Keeping a daily journal is something I have done for a great many years of my life to maintain a healthy mind! How does this work? When I was a young woman an older co-worker noticed that I was very tired over a period of time and she wondered if there was something she could do to help. I mentioned that I was not sleeping well and would wake up worrying. So she told me about a practice she had been told about by someone older and wiser who said to keep a journal by her bed so if she woke up worrying she could jot down her worry then be able to go back to sleep. To my surprise this actually worked and it worked so well I decided to keep a daily journal and have done so for years!
These are the rules I have kept over the years when I am journaling:
Keep track of only positive thoughts
Make a list of what you need to do each day – but keep this short so you can actually do them
Make a list of something you want to do the next day just for you
I want to remember the positive moments of my life! It gives me such pleasure reading a journal from years ago especially since I have always been very careful to only record the positive things. When my granddaughter visits she likes to look at old pictures of the family and hear me read from my journals particularly the journals that I wrote when my son, her Dad, was a small boy.
Each day before I go to bed I make a list of what needs to be done the next day – this allows my mind to rest better when I go to bed because I have written down what I need to do so I can sleep well and not be thinking about what needs to be done the next day or week ahead.
Then the next evening before I go to bed I can take stock of what I have accomplished that day by going over the list of the day before. It always feels so good when I can cross off something I have finished or accomplished that day. This is also the time to go over the list and make sure I am being sensible with what to expect of myself each day – if there are too many things left undone then maybe I need to rethink what I can accomplish in a day, making sure I am not being unreasonable of what can be done. Another suggestion is to go over your long term plans to make sure they too are realistic.
Don't forget to make that list of something you want to do just for yourself. Treating yourself well will help keep you more positive and relaxed so that you will have the strength to do more for others. Making a list of these personal wants is important because when we are active and busy we tend to forget and never treat ourselves to rewards just for us.
By keeping track of my days I am building a good present – good todays will give me great yesterdays and even better tomorrows! Good luck journaling your way through 2015!
2015 Journal – Limited Copies Left!
Journaling can also help with planning for your next day, week, month and year. Remember that plans can change sometimes because you realize some things are more important than others and circumstances change; you need to be able to adapt. Another benefit of making list besides keeping you on track is that it gives you a sense of accomplishment when you get to cross off the completed tasks on your list.
Price $29.95 Call to order your copy today 1.866.478.2224 During January we have a monthly special where if you purchase 4 of our Hallelujah Diet Products you will get 10% off all 4 products. The Journal is included in this special!
Each Journal comes with a coupon page with $80 worth of coupons that can be used throughout 2015!
So that is why I have given you plenty of room for:
Weekly planning pages that you can keep track of your time
Monthly planning pages
Quarterly planning lists
60 Pages of coloured photos of recipes and over 90 recipes in total
Menu plans and grocery lists (these will help you to stay on track with a better diet like we have with the Hallelujah Diet)
The Best of Judy's Healthy Thoughts
Tidbits of interesting information about our world today
Important dates page
Pages for your phone number of family & friends
Extra "Things to Do" pages
Pages for Planning 2016
So let's get started to enable you to achieve better health!
Bell Pepper Seed Cheeses
Serving size: makes 2 cups each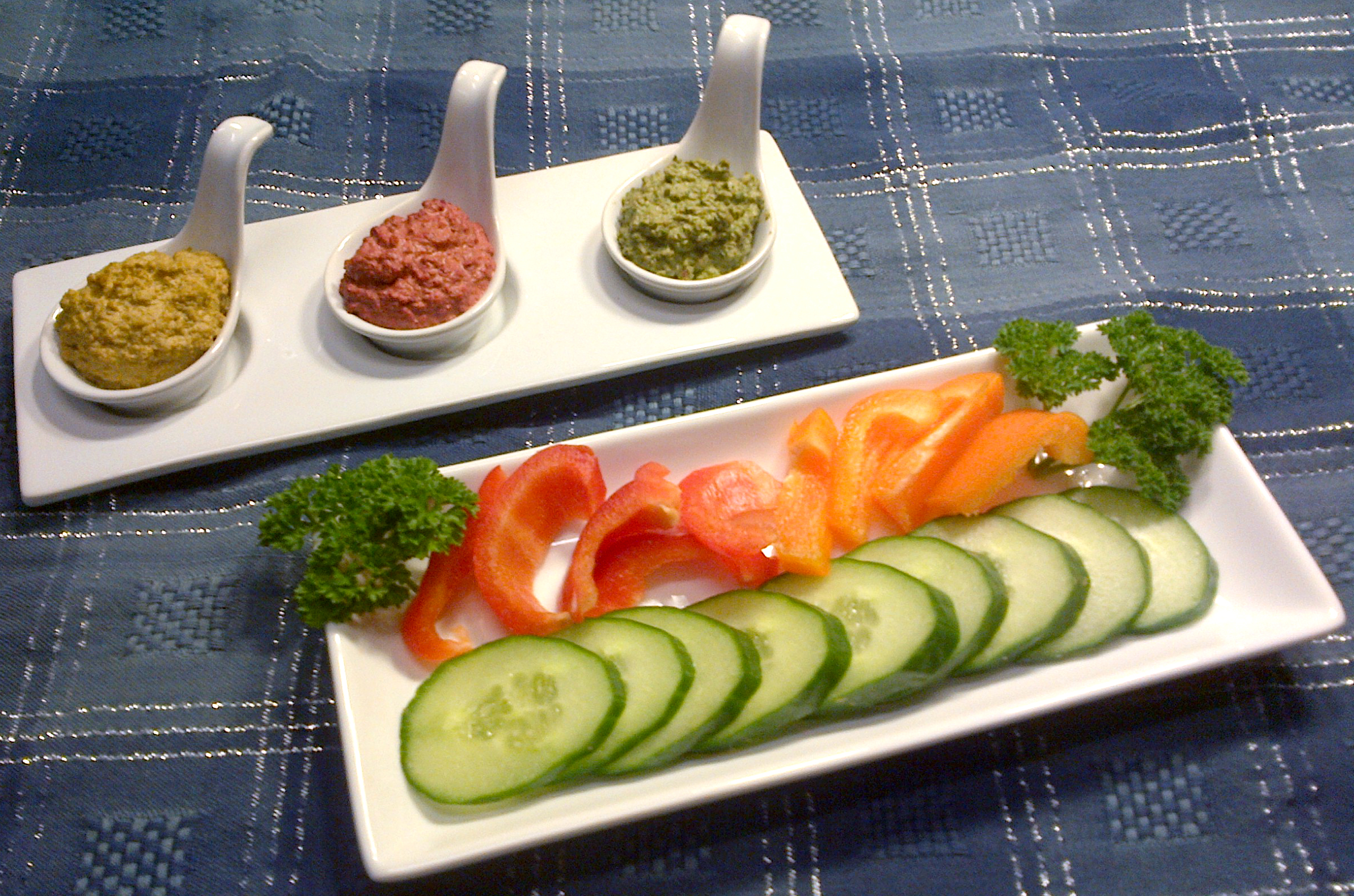 For the basic seed cheese recipe put the following in your food processor:
1 cup of each: sunflower or pumpkin seeds
2 tbsp. nutritional yeast
¼ cup apple cider vinegar
1 garlic clove
Blend well then add for each variety the following and blend again until creamy:
Love that Red:
1 red pepper (diced)
1 small beet
1 tsp. paprika & cayenne pepper
Orange Sunset:
1 orange pepper (diced)
½ tsp. turmeric & curry powder
2 tbsp. diced onion
Yellow to Green:
1 yellow pepper (diced)
¼ cup fresh parsley
1 handful fresh basil leaves
Serve these 3 pepper spreads with raw veggie sticks, flax crackers or bread.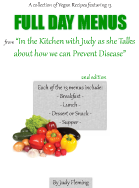 From Judy Fleming's Book Full Day Menus, a collection of Vegan Recipes from "In the Kitchen with Judy as she Talks About Disease Prevention". Learn how we can avoid the common diseases of today by doing a few simple things. Why would we wait until a disease hits us before we do something about it? Explore menu plans and healthy tips that will help you to lead a healthier life.