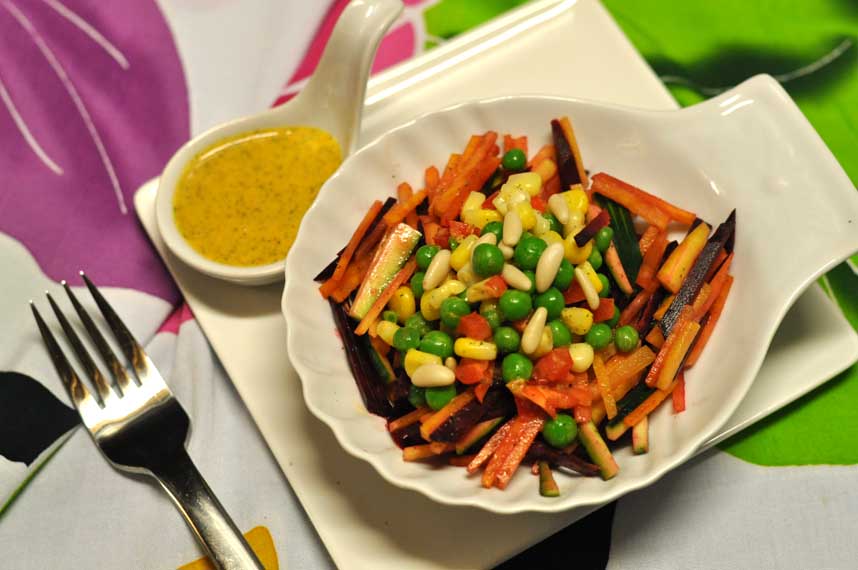 This is a wonderfully colourful salad to serve anytime but especially in the Spring time!
You make this salad in 2 parts: the Stick Straw and the pea/corn topping, and I used the multi coloured carrots and beets you find in the organic market.
The Carrot/Beet/Zucchini Match Stick Straw
serves 4
Cut up the following veggies into thin stick-like pieces:
1 of each coloured carrot (purple, yellow & orange) – makes about ½ cup of each
1 small beet of each colour (deep red, pink & yellow) – makes about ½ cup of each
1 small zucchini of each colour (yellow & green)
Toss these thin stick-like pieces in the following dressing.
Dressing
makes 1 cup
Blend the following ingredients in your mini blender until creamy:
⅓ cup of each: olive oil and apple cider vinegar
2 tsps CarrotJuiceMax powder
1 tsp honey
1 tsp dried mint
The Pea & Corn topping
makes 1 ½ cups
¼ cup pine nuts
½ cup of each: fresh or frozen organic corn & peas
Toss with the above dressing and keep separate from the stick straw salad.
To plate put a large scoop of the Match stick Straw salad on your plate or bowl then top with a smaller scoop of the pea/corn topping and serve.