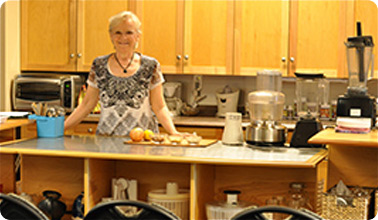 Judy Fleming has taught how to improve your diet and lifestyle for over 19 years and has been developing her own recipes with over 12 Vegan Recipe books to her name. She has been a certified Raw Food Chef for 5 years. You do not have to be a vegan to appreciate her recipes since we all love eating healthy tantalizing food. She has developed many classes and workshops at affordable prices. Scroll down to see the assortment of classes we offer.
Phone Hours:

Mon-Fri 9am-7pm & Sat 9am-4pm ET
We are CLOSED every Sunday and all holidays. Please Note – We are a scent-free facility. Please refrain from wearing perfumes or sprays to our classes and lectures. Thank you in advance.
Getting Back in Shape 3-Day Workshops:  this will be offered each month this year: May 23-25
3-Day Workshops include the following: Breakfast on the Friday & Saturday, lunch each day and Supper on Thursday & Friday. Also 3 workbooks full of healthy information and vegan recipes. Cost: $150.00 per person (or $250.00/couple) If you need overnight hotel we have made arrangements for $125.00 per night at the Comfort Inn here in Waterloo. Call our toll free line 1-866-478-2224 to register soon. Click here to see more details
Also the following classes and workshop will be offered this Spring & Summer months in Waterloo for the individual persons or groups from 1-6 people call our toll free #1-866-478-2224 to book a time:
Cost is $45.00 per person or $60.00 per couple. The price for this class includes a 5 course meal plus the book with over 40 life changing recipes.
 Come and Work In Judy's Kitchen with Your Group


We offer a hands-on class 

where you will work with Judy preparing interesting vegan recipes. This class will take place in the H!Diet kitchen in Waterloo. The class will be 5-6 hours and will include a different recipe book for the topic you choose (see choices below) with over 35-45 recipes as well as you get to eat all the food we prepare that day from Judy's books.

Cost for the day is $45.00 or $60.00 per couple

. The different topics could be any from this list:
Juices and Smoothies
Cooked Comfort Food
Salads and Dressings
Dehydrated Foods